You are here » Home » Business, Office & Industrial » Electrical & Test Equipment » Test & Measurement Equipment » Signal Generators
---
RF Signal Generator Calibrated 35MHz to 4.4GHz via USB + FEATURES + RF Cable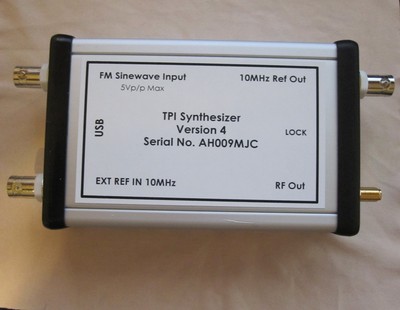 £ 173.43
Ads Finished
Product Description
Saller: yarbrob1
Start on:
2013/17/05 15:00:23
Finishes on:
2013/30/05 12:23:29
Location:
Spicewood, Texas
---
RF Consultants, Test Engineers, Antenna Range Technicians, Production Test Engineers, Site Survey Technicians and Ham Radio Enthusiasts
This unit is unbelievable for the price. This unit works like an expensive Signal Generator at a fraction of the cost.
This document will provide a brief description of the features of the TPI Synthesizer Version 4.0
This synthesizer utilizes the Analog Devices PLL integrated circuit ADF4351.
ADF4351 FEATURES
Output frequency range: 35 MHz to 4400 MHz
Fractional-N synthesizer and integer-N synthesizer
Low phase noise VCO (1GHz 10Khz offset = -91dBc/Hz)(2.4GHz = -86dBc/Hz)
Typical rms jitter: <0.4 ps rms
Programmable output power level
Cycle slip reduction
TPI Synthesizer FEATURES
Internal Reference is 10MHz Temperature Compensated Clock Oscillator at +/-2.5 ppm over temperature +/-1.5 ppm at room temp

For a description of the reference clock go to Digikey.com and use this part number: 631-1067-1-ND
There is a buffered reference output available at front panel. The Reference is accessed via a BNC connector. The output will drive a 50 ohm coaxial cable. DC Coupled 0v to 3.3v

There is an External 10MHz Reference Input on the back panel (BNC). This External input is double buffered so that neither of the 10MHz signal inputs will influence the reference selection.

The unit has been *calibrated and RF Output Power is accurate within +/-1dBm with 90% of all readings within 0.6dB of reported power 35MHz to 4GHz.
Output Power is available from +10dBm to -55dBm (65dB linear range). Simply add a fixed attenuator of 40dB to get ranges down to -95dBm.

Attenuator Features:
Attenuator section can be swept at any values between +10 to -55dBm.
Attenuator can be "Single" stepped both up and down.
Step size is adjustable from -1 to -55dB
Attenuator Sweep speed is adjustable
RF Sweep Features:
RF Sweep function with 1KHz resolution and selectable time per step
Single Step function Up/Down selectable step size
Single Sweep Function or Continuous loop

FM Features:
FM sine-wave input 5Vp/p Max (safety clamp installed). You adjust the peak to peak level of the sinewave input and that controls the deviation. Send me an inquiry and I can send you more details in PDF format.
Other Features:
Lock Detect LED front panel. When the LED is on it indicates that the Frequency is locked and stable.
Standard SMA RF output (50 ohm)
Powered by USB 2.0 port (< 250ma)
NOTE: There is no RF filtering of the RF output and you will see the harmonics. If you request 900MHz you will get 1800MHz and 2700MHz and 3600MHz at some lower level. This is not a ten thousand dollar unit and I am designing stand alone Band Pass Filters for the popular frequency bands. Some HAM operators have sent information at 78GHz which requires great phase noise.

Packaged in extruded Aluminum housing with Aluminum End Plates
SOFTWARE is developed around 2 platforms. Tcl and LabView. You do not need to own LabView and you will get an executable file. But if you are interested in LabView and you want the Native LabView Files then contact me. I have software developed around Tcl (Tickle) as well. The Tcl software is a better platform with more capability. I am going forward with the Tcl platform in regards to upgrades. I keep LabView around for those who want to integrate this system into other VI's.


SOFTWARE Upgrade: I have added a very slick Morse Code Module with the Tickle Platform. The Tickle Platform is a better platform than the LabView. You get both on the CD. You need to contact me and send me your contact info to get a detailed product description. In short you can control multiple signal generators with the Tickle Platform and you can simply type your message in the Morse Code module and the signal generator will send whatever you type in Morse code using OOK modulation. There is an additional "Beacon" mode.


Contact me for a complete description and Operating manual
This package includes a CD with drivers and an executable file that will install and run on a PC with Win-XP, Vista or Windows 7 (
USB cable included
).
I am including a new 10 inch Semi-Rigid coax cable. My Network Analyzer only goes out to 6GHz and so this cable has less than 0.7dB insertion loss at 6GHz.
*calibrated means that my spectrum analyzer and a calibrated RF cable were used to set the power calibration table used for power output. This is not NIST certified but believe me it is good enough for 99% of all your testing needs.

This is a wide band synthesizer. This is a very inexpensive solution for a stable frequency source for a number of applications to include production test set ups, antenna testing, Range tests, bench testing, site surveys.
This product is Made in USA by an RF Engineer with 30 years of experience in product design.
Custom designs can be discussed. I am a wireless engineer and available for product development. I have a number of products on the shelves at Big Box stores and have been developing products for 30 years.
Register on Ebay Make a Question See at ebay
Related product video:
Our website does not sell this item and does not participate of negotiations for the sale or delivery, we only show this advertising to help you to find this product.